Please click HERE to view our full calendar showing matches, events and functions.
----------------------------------------------------------------------------
Plympton Cricket Club - Election of Officers
The Election of Officers form has been put up in the club house. If you are interested in any of the posts please put your name in the relevant box asap. Or if you would like more information on any of the posts please get in contact with either Karen, Keith or Dave.
----------------------------------------------------------------------------
Plympton Cricket Club Family Day - Saturday 19th August
We are holding a family day at Harewood on Saturday 19th August.
There will be coaching in the nets to help batting a bowling skills and coaching of fielding skills.
Come and watch the 2nd's take on Sidmouth 2's. The bar will be open where we will be holding a Pimm's promotion and there will also be a barbeque.
The event is open to all friends and family members. So pop along, have a great day and enjoy the club.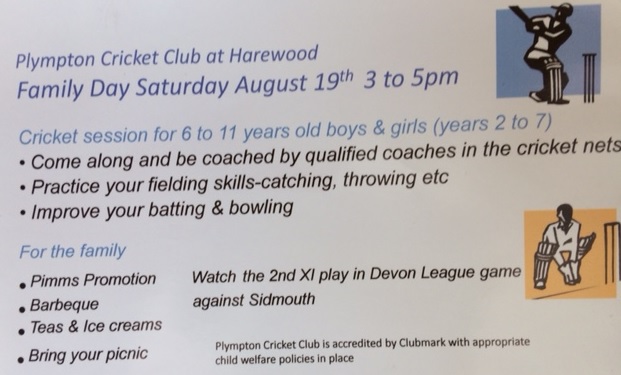 ----------------------------------------------------------------------------
Teams For Saturday 19th August
1st Team v Sandford
Away to Sandford with a 12.30pm start. Players to meet at top car park - time TBC
Craig Donohue (Capt)
Justin Wubbeling (wk)
Andy Walter
Dave Ackford
Alex Carr
Christian Bunney
Harry Kandampully
Tom Richards
Hakeem Abdullah
James Degg
Jacob Caunter
Scorer - TBC
2nd Team v Sidmouth II
Home to Sidmouth with a 1.30pm start. Players to meet at Harewood at 12.30pm
Adam Sellick (Capt)
Chris Po Dawe (wk)
Elliot Hamilton
Rob Walker
Ben Privett
Matt Draper
Jamie Bailey
Timmy George
Josiah Caunter
Jonty Walliker
Charlie O'Higgins
Umpire - Kev Robjohns
Scorer - Volunteer Please!
Teas - Mrs O'Higgins
3rd Team v Brixham II
Away to Brixham with a 1.30pm start. Players to meet a top car park at 11.30pm
Sean Mortimer (Capt)
Jason Degg
Tobin Barker
Freddie Eyston
Jesse Sandhu
Ciaran Grey
Jake Campbell Beattie
Olly Goulder
Richie Barker
Amanda Higginbotham
Alasdair Lambie
Scorer - TBC
Umpire - TBC
----------------------------------------------------------------------------
Charity 6 A Side Cricket Tournament - Sunday 27th August
We are organising a charity 6-a-side cricket tournament at Harewood on Sunday 27th August 2017.
The day is to raise money for Plymouth Sugar Zappers who are a local charity that supports families who have children with type 1 diabetes.
We are looking for raffle prizes to help raise as much money as possible for this very worthwhile cause.
Full information and contact details are HERE.
In addition, Jon has managed to get an extension to our licence so the bar will be open from 10.00am!
----------------------------------------------------------------------------
Match Reports & Teams For Saturday 12th August
Not the best Saturday with all three sides losing but the Sunday team recorded a convincing win.
We start at Oak Park where Cornwood hosted our 1st's looking to avenge their early season defeat at Harewood.
Captain Craig's match report is here: -
After losing the toss and being put into bat (had we won the toss we would have batted) we started well with James Degg, David Ackford and Dave Wrench getting us up to 60 odd for 1. But with the wicket becoming more tricky to bat on it was always going to be tough on guys coming in. So when we lost Deggy and Wrenchy in quick succession it was a blow. We just never got going again and got up to 99 all out.
In the field we knew if we started well 99 was still a way off with the wicket deteriorating. We got a couple of quick wickets but their skipper counter attacked and got a few boundaries to take a chunk out of the score. Had one of his chances gone to hand it might have been a different story. Wrenchy and senior Donners bowled well and we managed to get 5 of their wickets before the game was over. Another 40 on the board and it was really game on.
We move onto next week, thanks again to Bev Walter for scoring.
The 2nd's hosted Cornwood Two's at Harewood and after we won the toss, the day went downhill from there. Cornwood were asked to bat first and scored at a brisk rate. A ton plus for one of the Cornwood openers set the theme as the visitors racked up 237-5 in their 45 overs. There were 2 wickets for Elliot and one each for Drapes and Selly.
In reply, tight bowling and losing wickets made the chase a near impossibility. Wickets fell regularly and we reached 121-8 when the overs were all used up. Ben top scored on 31 not out and openers Elliot got 20 and Paul 15.
The 3rd's travelled to Ivybridge and lost by 28 runs. Capt Sean's match report is here: -
3s Report Vs Ivybridge 2s
After winning the toss we put Ivybridge in to bat first. With an opening burst from Billy Pitman (4 Overs 2-21) and Jonty Walliker (3 Overs 0-16) Ivybridge made a brisk start with Billy pegging them back with his 2 wickets. Jack Sellick then took up the mantle bowling 3 overs for 20. It was then the turn of Jason Degg and Tim George to slow the run rate down. They succeeded with Jason bowling 9 overs for 19 and Tim picking up 2 wickets for 18 from his 9 Overs. One of the highlights came during this spell with Billy running out Ivybridge's second top scorer with a great direct hit. JCB again bowled well with his 5 overs going for 22. Evie Privett who was making her debut for the club bowled 3 overs taking 1 for 15 including a wicket on her 3rd ball. Unfortunately at the end of the Ivybridge innings their batsman Joe Langworthy dislocated his knee and play was stopped until he was taken to hospital. The good news is that the injury wasn't as bad as first thought and he should be out for 2-3 weeks. Thanks to Jason for his help with the injury. In the end Ivybridge ended on 162 for 8.

Unfortunately our batting wasn't up to our normal standard and we were quickly 3 wickets down. Jack Sellick managed to dig in for a while scoring 7, his partnership with Billy Pitman (24) was our second highest of the game. We then continued to leave wickets with the only other partnership being between Billy and Sean Mortimer (32 no). This was unfortunately in vain with us being all out for 134 with 7 overs remaining.

All in all we fielded well, with another good performance behind the stumps from Olly Goulder and a lot of effort put in all round but we came up a bit short in the batting. Only 7 points this week.
On Sunday a fantastic 147 from 134 balls by James Degg helped the side to victory by 64 runs. 35 not out from Ben pushed our score to 228-3 in the forty overs.
In reply Ipplepen lost wickets regularly and reached 164-6 when their overs ran out. There were a couple of wickets for Jason (2-16), one for James (1-6), one for Connor (1-27) and one for JCB (1-34) .
1st Team v Cornwood
Away to Cornwood with a 12.30pm start. Players to meet at Cornwood at 11.30am
Craig Donohue (Capt)
Justin Wubbeling (wk)
Dave Ackford
Alex Carr
Christian Bunney
Harry Kandampully
Tom Richards
Hakeem Abdullah
Dave Wrench
James Degg
Keith Donohue
Scorer - Bev Walter
2nd Team v Cornwood II
Home to Cornwood with a 1.30pm start. Players to meet at Harewood at 12.30pm
Adam Sellick (Capt)
Sam Agnew (wk)
Ciaran Grey
Elliot Hamilton
Paul Hamilton
Rob Walker
Ben Privett
Jesse Sandhu
Matt Draper
Todd Rossouw
Jamie Bailey
Umpire - Dave Loynes
Teas - The Grey's
3rd Team v Ivybridge II
Away to Ivybridge with a 1.30pm start. Players to meet a top car park at 12.30pm
Sean Mortimer (Capt)
Chris Dawe (wk)
Jason Degg
Jonty Walliker
Jake Campbell Beattie
Olly Goulder
Jack Sellick
Timmy George
Billy Pitman
Nithin Gopalakrishnan
TBC
Scorer - TBC
Umpire - TBC
----------------------------------------------------------------------------
Colts Newsletter - July 2017
Colts co-ordinator John Agnew has produced his latest newsletter for July 2017.
Please click HERE to view it.
----------------------------------------------------------------------------
New Plympton Cricket Club Shirt Sponsors
The Club has secured two main Shirt Sponsors for the Whole Club on a two-year deal.
On the
front of Shirt Sponsors will be
MAG The Fitout Group
owned by Colts parents Paul & Toni Hamilton. On the back of Shirt Sponsors will be
Future First Financial Solutions Limited
owned by Colts parents John & Lisa Agnew.
We would like to express our gratitude to both families and their business for their support.
----------------------------------------------------------------------------
Grand Raffle 2017
The club have now launched a Grand Raffle which will be drawn on 4th November at the Club Dinner and Dance. It is open to all club members and will be essential to help raise funds for Plympton Cricket Club.
Tickets are available from behind the bar or via PayPal. If you are using PayPal please transfer money to pccgrandraffle@gmail.com, make sure it is a Friends and Family payment and that you leave a note with your name on it, your tickets will be available for you to collect from behind the bar.
You must be 16+ and associated with the club to play.
1st Prize minimum £100 cash
2nd Prize minimum £50 cash
Many other prizes to be announced!
----------------------------------------------------------------------------
Club House For Hire
The Plympton Cricket Club Pavilion is available to hire as a training meeting / room if any club member, friends or family are interested this will bring in much needed club funds.
Please click HERE for further information or contact Dave Loynes directly on 01752 785402 or 07881 383590.
----------------------------------------------------------------------------